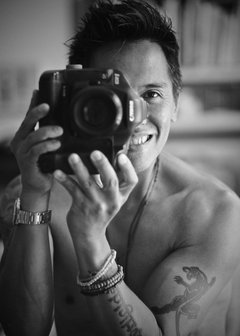 Edwin Datoc is a photographer and filmmaker who is renowned for his striking cinematic style. His appreciation and familiarity with diverse cultures reflects a unique international perspective to his work. His influences and inspiration are varied from travel, design, paintings, sculpture, music, and cinema.
Edwin has shot editorial assignments for Harper's Bazaar, Elle, Marie Clare, Cosmopolitan, Esquire, and Tatler. He has photographed campaigns for
Marie France Van Damme, Costume National, Esprit, L'Oreal,
and has created striking films for
LANDMARK HK
, G2000, Kim Robinson Cosmetics, Agent Provocateur and Fiorucci.
Edwin's corporate portfolio includes Hutchinson Whampoa Li Ka Shing Subsidiary, The Wall Street Journal, Merrill Lynch, Xerox Corporation and Reuters.
Edwin currently lives between New York, Hong Kong and Sydney.