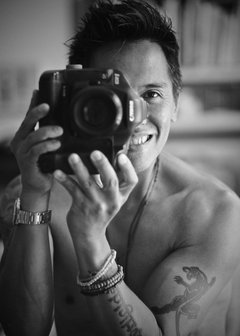 Edwin Datoc is a photographer and filmmaker who is renowned for his striking cinematic imagery and portraiture, whose images capture an often surprising and spontaneous energy in even the most reserved and difficult subjects of fashion and culture. A self-taught musician, diverse in guitar and keyboards, his pictures often reflect his passion for music. Edwin's creative projects has since taken him to more than eighty countries. His appreciation and familiarity with diverse cultures reflects a unique international perspective to his work. His influences and inspiration are varied from travel, design, architecture, music, art, cinema and literature.
His command of narrative and comfort working in alternately stark and elaborate locations has led to editorial assignments for Harper's Bazaar, Elle, Marie Clare, Cosmopolitan, Esquire, and Tatler. He has photographed campaigns for Costume National, Esprit, L'Oreal, and has created striking films for
LANDMARK HK
, G2000, Kim Robinson Cosmetics, Agent Provocateur and Fiorucci.
Edwin's corporate portfolio includes Hutchinson Whampoa Li Ka Shing Subsidiary, The Wall Street Journal, Merrill Lynch, Xerox Corporation and Reuters.
Edwin has exhibited his work at various institutions in Europe, Asia and Australia. He is active in the fields of both fine arts and assignment work.
Edwin currently lives between New York, Hong Kong and Sydney.